If you are just joining us, we are on a journey.
A Journey of Providence: Trusting and Hoping in God's Plan.
If you missed us last week, here are the first 5 Days.
How does one find Hope in the detours, in trials?
How did I find Hope from a verse given to me on a car trip?
...Because the journey of living in God's Providence is
trusting God despite what we see or feel.
There were many time I prayed for the situation to be different, for it to work.
God helped me through those difficult times.
He didn't give me what I asked nor did He remove it.
He kept me from being shaken.
24 To him who is able to keep you from falling and to present you before his glorious presence without fault and with great joy— Jude 1:24 NIV
That trip was a life change from what I thought life would be like, where I thought it was headed, what I had prayed for...
It is in that detour that I learned apart from Christ I can do NOTHING.
5 "I am the vine; you are the branches. If a man remains in me and I in him, he will bear much fruit; apart from me you can do nothing. John 15:5 NIV
I needed to
abide
in Christ,
remain
in prayer, remain in His word,
It is in His Word, where His Hope became...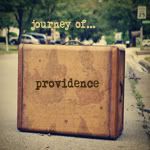 Joining 5 other writers,
kindred friends
, who are sharing the journeys they are on.