We are nearing the end of the
Journey Series
but
not the Journey God has written for us.
Thinking back on these past nine days I am humbled and thankful for the ways God moves, works, and weaves lives together.
I never thought that through this
One Word,
God would place on my heart this
Journey,
I am so thankful for the grace you have shown me along the way.
My Journey is not perfect.
I have not perfected trusting and hoping in God's Plan.
I am, though, learning to trust and hope in

all

that He brings.
Whether it be rain or shine.
Because there is always...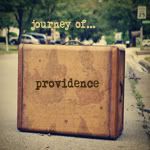 Joining 5 other writers, kindred friends, who are sharing the journeys they are on.