The Journey is not over...
Is it possible to trust God's goodness and have Hope He will provide in the times of trial? Provide in the the detour times?
Ruth and Naomi have traveled back to Bethlehem. They have made their home and now it comes time for Ruth to work out in the fields.
Here comes the Perseverance...
1 Now Naomi had a relative on her husband's side, from the clan of Elimelech, a man of standing, whose name was Boaz.
2 And Ruth the Moabitess said to Naomi, "Let me go to the fields and pick up the leftover grain behind anyone in whose eyes I find favor."
Naomi said to her, "Go ahead, my daughter." 3 So she went out and began to glean in the fields behind the harvesters. As it turned out, she found herself working in a field belonging to Boaz, who was from the clan of Elimelech.
It is
no coincidence
she finds herself in the field of Boaz.
Like Ruth, God will provide for us.
He will provide through His Word, others, and us taking the step towards Him.
... All that time I lost in letting the trials, detours, of my particular circumstance cloud my view of God's will. While I never stopped believing God and in God. I lost Hope that His will was good and best.
I allowed the circumstance to "tell" me it was okay. It wasn't.
By His Strength and Perseverance...
I began taking the steps towards God's Will, not mine.
Steps toward Hope, that things will work out.
That they will be good, oh so good.
2 Consider it pure joy, my brothers, whenever you face trials of many kinds, 3 because you know that the testing of your faith develops perseverance. 4 Perseverance must finish its work so that you may be mature and complete, not lacking anything.
It is more reliable to trust an unseen God than visible circumstances....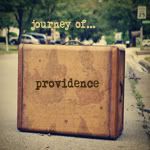 Joining 5 other writers,
kindred friends
, who are sharing the journeys they are on.
September 5th-16th, sharing the words God has laid upon our hearts and breathed into our souls. Each one different, yet weaving our lives together.

If you like, you may grab the Journey button over on the sidebar to share with others. Just right click on the button and copy link location.